Reflections
on Our Spiritual Health During This Time of Pandemic
By Reverend Lynn Santulli; October 2020
It has been very interesting to me that during this season of pandemic there has been little information shared about how to weather this season of trial and discuss what we may be feeling and why. I am not a psychiatrist, nor claim to be, so nothing in my reflection should be taken as medical advice, however, as a fellow spiritual pilgrim during this journey I wanted to share my thoughts and elicit yours as well. Together, as community, we discern the voice of the Holy Spirit and are blessed in that sharing.
A common theme recently has been a continued sense of listlessness, apathy, even depression in our lives. As we listen to numbers of COVID cases, deaths, outbreaks, etc. it is hard not to feel discouraged that we are not going to emerge from this situation quickly. We are a society under stress, frankly we are world under stress which has caused (I believe) an increased sense of emotion and reactionary behavior that only serves to escalate levels of anxiety and concern. Emotionally frustrated that we cannot fix something, we turn with greater alacrity to attempt to fix things we feel can be under our control or at least rage against the night.
In all of this I feel we are reminded on how important community is to our mental health, however we deem appropriate to define that community. Sheltering in place has removed a huge component for managing our mental health and we feel the effects deeply. Virtual meetings help some, but there is nothing that will ever replace the person-to-person engagement. We are creatures that are material (as well as spiritual) and so the need to be with people is essential to our well being. Also, as we are sheltering we are not always sheltering with people that are always 100 percent engaging and helpful (we are not either if we are truthful). Add on the layer of expanded childcare, dependent care and other issues, it is in some way a miracle that things aren't worse off than we are right now. And, for those dealing with the realities of school and work, just navigating all fo the changes and keeping up with demands it is no wonder we are feeling at a low ebb.
Remember that we are not the first ones (or probably last ones) to go through difficult times. Like the Israelites through the desert, the exiles in Babylonia, there is an end to this chapter and the story will go on. At the end, you may discover that even in the midst of the trials God has blessed you and you can celebrate that blessing.
This calls for patient endurance on the part of the people of God who keep his commands and remain faithful to Jesus.
Revelation 14:12
So what are we to do? What are ways that we may recharge our depleted batteries and lift our hearts as we continue the journey? We can begin with some of the suggestions that health professionals offer*:
Take care of your body– Try to eat healthy well-balanced meals, exercise regularly, and get plenty of sleep. Avoid alcohol, tobacco, and other drugs. Learn more about wellness strategiesexternal icon for mental health.
Connect with others– Share your concerns and how you are feeling with a friend or family member. Maintain healthy relationships, and build a strong support system.
Take breaks– Make time to unwind and remind yourself that strong feelings will fade. Try taking in deep breaths. Try to do activities you usually enjoy.
Stay informed– When you feel that you are missing information, you may become more stressed or nervous. Watch, listen to, or read the news for updates from officials. Be aware that there may be rumors during a crisis, especially on social media. Always check your sources and turn to reliable sources of information like your local government authorities.
Avoid too much exposure to news– Take breaks from watching, reading, or listening to news stories. It can be upsetting to hear about the crisis and see images repeatedly. Try to do enjoyable activities and return to normal life as much as possible and check for updates between breaks.
Seek help when needed– If distress impacts activities of your daily life for several days or weeks, talk to a clergy member, counselor, or doctor, or contact the SAMHSA helpline at 1-800-985-5990.
But although that might help some, as Christians we have even greater resources from which to draw. Here are some thoughts I wanted to share:
Check out the bookmark offered with this reading. (I apologize in advance, gentlemen, that it is in pink). Referring to Scripture can be a great way to help us focus on the longer view, on God and resting in His plan. There is also a list at the end of this article.
Journal. Write down your thoughts and don't worry about how messy or unstructured they are, get them out on paper. It can be very cathartic. I had journaled for years, titling my book, 'Letters to God' and was amazed years later when I saw that God did hear my prayers and answered ones I had even forgotten about!
Return to what you knew that gave you joy. Recalling a time in our life when things seemed better, when you had a passion for an activity or art can open us to reclaiming a healthy way of coping that we might have forgotten about when things got busy. It can be drawing, reading, crafting, building…just about anything creative. Recently I have started listening to lectures and was reminded of a time in my life when my heart and soul were filled by school (and I don't even have to write papers!). Reconnect with your younger self, have fun!
Get out in nature and enjoy God's creation. It's still there and waiting for you. John Muir, the great naturalist (who was raised Presbyterian), wrote, "In every walk with nature one receives far more than he seeks. The power of imagination makes us infinite. Everybody needs beauty as well as bread, places to play in and pray in, where nature may heal and give strength to body and soul."
Come to church and worship. Safely distanced, we are reminded that we are a community and as such gather to worship God and offer Him our hearts and souls, our joys and our fears…and then listen for His response. It is amazing what happens when we open ourselves in prayer. By gathering (safely) for worship, we are reminded that we are part of something far greater than ourselves and we are not in this alone.
Be kind to yourself and others. Our masks can make us feel removed from others, so being extra kind reminds each of us that we are still good, caring people underneath who long for connection with others. The kindness you show just might be the only kindness that person sees that day. And remember to be kind to yourself. We are all different in our response and ability to cope these days. There are no 'winners' and 'losers' in this, no one who gets it 'right' but rather everyone who is just trying to get by as best they can.
Pray. Put yourself in time out from life. Sit quietly and be in God's presence. You don't have to have the right words, just spending time with God is all that's necessary. God takes care of the rest. If you do feel an eruption of emotion, just let it flow. God can handle it.
For additional worship material, Click the "Looking into..." button below!

If you would prefer to print your own bulletin amd bring it with you, click the button above.
--0r--
If you would prefer to download a "zip" version,
CLICK HERE
Click on image to view gallery
Planning Your Wedding? Celebrating A Birthday Party? Hosting A Community Event? Learn how you can rent space at one of New Jersey's most beautiful churches.
CAPC Blog
By: Reverend Lynn Santulli
For such a time as this...it seems we could say that for so many reasons …Read More
Crescent Connections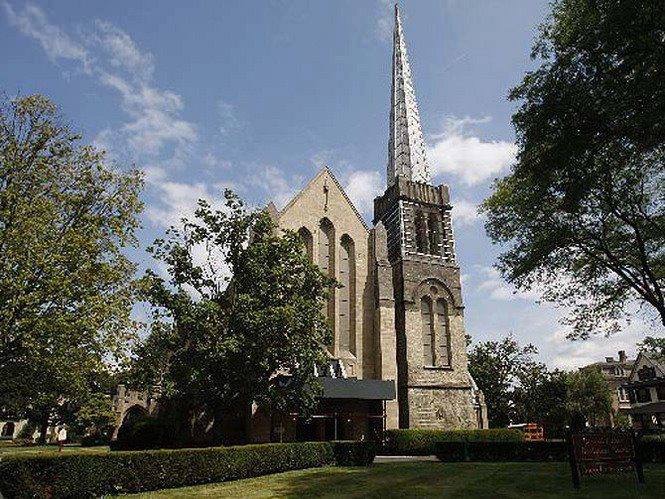 to view it online, follow the media button in the navigation bar above.