***
The Redemption of Scrooge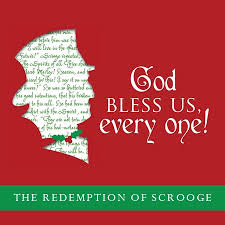 Sundays @ 9 am
December 3, 10 and 17
Ebenezer Scrooge is a man in dire need of a second chance. Is redemption possible for such a greedy, dark and sad character?
The Redemption of Scrooge
, from Matt Rawle's The Pop in Culture Series, shows us how the teachings of Jesus can be found in Dickens' Christmas classic. From the ghosts of Christmas past, to the Life of the present, and the resurrection of Christmas future, this Advent study will "bless us every one" and reinvigorate our spiritual journeys as we look at this familiar story through the lens of faith.
***

Crescent Avenue Presbyterian Church Welcomes Noted Conductor, Deborah Simpkin King, PhD, as its Interim Director of Music
Plainfield, NJ; August 10, 2017………. Crescent Avenue Presbyterian Church (CAPC), one of New Jersey's most beautiful and historic churches, is pleased to announce the appointment of Deborah Simpkin King, PhD, as its new Interim Director of Music. In addition, Dr. King will serve as the Artistic Director of the church-sponsored Crescent Concerts Series, a multi-disciplinary presentation of vocal, instrumental, choral and orchestral music events for the residents of Plainfield and the surrounding communities.
In her role as Director of Music, Dr. King will lead the Chancel Choir, serve as the organist during services and organize the special music offerings at CAPC. As the Artistic Director of the Crescent Concert Series, which includes concerts by both the Crescent Choral Society and the Crescent Singers under her direction, she will be working with the Concerts' board in developing and curating the full season's concert activities.
"Crescent Avenue Presbyterian Church has an impressive history of supporting the arts as a pathway into the human heart and soul," says Dr. King. "I am thrilled to have the opportunity to work with such a vital organization filled with talented people who truly understand the significance of that role."
Dr. King brings with her over 25 years of experience as a conductor, building and leading choral ensembles and music programs for ecclesiastic, academic and other non-profit organizations. She is the founder and artistic director of Ember, the vocal ensemble of Schola Cantorum on Hudson, and of PROJECT : ENCORE™, the internationally acclaimed advocacy initiative for post-premiere performances of new choral music. Her leadership roles in the professional community include chair of the New York Choral Consortium (NYCC) and Coordinator of the NJ-ACDA High School Choral Festival.
Dr. King holds a Ph.D. in Musicology from the University of North Texas and a MMus in Music Education/Choral Conducting from North Texas State University. Prior to her position at Crescent Avenue Presbyterian Church, Dr. King served in a variety of musical capacities for Episcopal, Presbyterian and community churches.
"We're very excited to welcome Deborah to the Crescent Church family"," says the Rev. Lynn Santali. "Our church has a rich tradition of music which has always sought to bring the very best to worship and to the community. It is time to take a fresh look at our entire program. Deborah is uniquely qualified to lead our music programs and to tease out the traditions we want to hold onto while helping us to develop new ones for the future. She truly shares our vision, passion and commitment to providing our community with the highest quality musical experience."
*****
Ways to Serve
CAPC Soup Kitchen – Is on hiatus rigth not while we completely renovate our kitchen facilities (to better meet the needs of the commuity and our church). PLEASE NOTE: WHLE THE KITCHEN IS BEING RENOVATED THE SOUP KITCHEN WILL BE CLOSED. BAG LUNCHES WILL STILL BE DISTRIBUTED EACH WEEKDAY AT 10 AM. VOLUNTEERS LOOKING TO HELP FILL BAGS SHOULD CONTACT THE CHURCH OFFICE
Blessing Bags - Blessing Bags are a great project for individuals, youth groups, companies that want to make a difference, and other groups of volunteers. Random acts of kindness which may seem so small to us can make a big difference in someone else's life. Blessings Bags are one way to make just such a difference—and they're easy! Items can be purchased at a dollar store and can be placed in a gallon plastic bag to be distributed at our weekly Soup Kitchen.
What to include? Here are some suggestions:
Gloves
Thermal socks
Crackers, beef sticks, candy bars or other snacks
Toothpaste/Tooth brush
Wipes
Deodorant
Fruit juice/water
Bags can be dropped off Sundays through Fridays 8-12 noon


Want to find out more about any of these opportunities?
Please contact the church office at 908.756.2468 or email Pastor Lynn at pastor@crescentonline.org