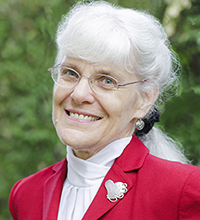 Guest Preacher from Princeton Theological Seminary to speak at Crescent Avenue Presbyterian Church, Sunday, April 22, 2018 at 10:30 am
On Sunday, April 22 at CAPC we will have the opportunity to hear
Professor Elsie Ann McKee
of Princeton Theological Seminary preach for us in worship and speak with us after worship during our coffee fellowship time. Everyone I have mentioned Professor McKee to tells me what a wonderful, engaging speaker she is and a lot of fun to listen to, we are truly blessed to have an opportunity to hear her speak. A brief summary of her passion as well as a short bio follows. Please join us for worship on Sunday, April 22 at 10:30 am.
A brief bio of Dr. Elsie McKee
When people ask who I am, the first thing I usually tell them is that I was born and reared in the Democratic Republic of Congo, in central Africa. That has shaped my view of the church and the world: both are multi-colored and multi-lingual, both are full of rich diversity of stories and gifts and suffering. I love to walk down a street and hear different languages, see all kinds of faces; even more I love to share in worship with a vibrant, singing (and dancing!) congregation from many lands, dressed in bright colors.
My teaching in history is very much like my cross-cultural experience. Someone said that the past is another country. In exploring different ages as well as different cultures, we must suspend our own cultural assumptions at least long enough to hear and see what is there, to let ourselves be surprised by the new – or by the familiar in a strange dress. My passion is helping people meet people as real people, whether they are "3-D people" (flesh and blood) or "paper-people" (book-borne). The people I most want you – everyone – to meet are my dear Congolese sisters and brothers, especially through Woman, Cradle of Abundance, Inc., the non-profit which PTS friends and I established in 2013.
www.WomanCradleofAbundance.org
Or come talk with me!
Elsie McKee is Professor of Reformation Studies and the History of Worship at Princeton Theological Seminary. Her academic research has focused on the 16
th c. Reformation, particularly books on John Calvin and a woman reformer, Katharina Schütz Zell. She is probably best known for her trilogy on Calvin's doctrine of the ministries and worship of the church: John Calvin on the Diaconate and Liturgical Almsgiving (Droz, 1984), Elders and the Plural Ministry (Droz, 1988), and her newest book, The Pastoral Ministry and Worship in Calvin's Geneva (Droz, 2016). The two volume set Katharina Schütz Zell: The Life and Thought of a Sixteenth Century Reformer, and The Writings: A Critical Edition (both Brill, 1999), give attention to one of the most vivid and articulate women of the early Reformed tradition. She has published books of translations of both Calvin and Schütz Zell. McKee's teaching includes special interest in worship, Biblical exegesis and ethics, and gender and cross-cultural issues. McKee was born and reared in what is now the Democratic Republic of Congo, a heritage which formed her perspective on the world church, including the ways that the Reformed tradition has taken shape in at least one part of the Global South. Alongside teaching and research, McKee is involved in a number of non-profits which support education, medical work, and especially issues of gender and justice in Congo. She is the founder of Woman, Cradle of Abundance, Inc.
Crescent Avenue Presbyterian Church
716 Watchung Avenue, Plainfield, New Jersey 07060
908.756.2468 crescentonline.org



***
Crescent Avenue Presbyterian Church presents…

Retreat - April 28 - 9-noon - Guild Room
The soul is NOT "a theological and abstract subject." The soul is the coolest, eeriest, most mysterious, evocative, crucial, sacred, eternal, life-directing, fragile, indestructible, controversial, expensive dimension of your existence. Jesus said it's worth more than the world.
You'd be an idiot not to prize it above all else. Shouldn't you get pretty clear on exactly what it is? Shouldn't you know what it runs on? Wouldn't it be worth knowing how to care for it? Two things are for sure. One is: you have a soul. The other is: if you don't look after this one you won't be issued a replacement.
Bestselling author John Ortberg writes another classic that will help you discover your soul and take your relationship with God to the next level.
http://www.johnortberg.com/books/soul-keeping/
***
Crescent Avenue Presbyterian Church presents…

The season of Lent is a holy season of preparation, of reflecting on where we are in our spiritual journey and planting the seeds in our lives for change. It is a process of opening ourselves up to the work of the Holy Spirit to renew, transform and be refashioned in His image, open to the Potter's hand. This season, here at CAPC, there are a number of resources and opportunities listed below for you to consider. Our prayer is that your journey will lead you closer to Christ.

Worship

Each Sunday we continue to worship at 10:30 am in the Sanctuary. Following the lectionary, we journey through the season using music, prayer and sermons as we journey through this Holy Season.

February 14 - Ash Wednesday 7:30 pm - Worship in Sanctuary, gather for a simple meal of Soup/Bread in the Guild Room beginning at 6:30 pm. This evening begins the series 'Thy Will be Done'

Wednesdays, February 21, 28; March 7, 14, 21 - Wednesday Worship at 7:30 pm, Chapel - 'Thy Will be Done' continues. Weekly meal of soup/bread served in the Guild Room.

March 25 - Palm Sunday - Sanctuary, 10:30 am, palms wave as we celebrate Jesus' arrival in Jerusalem and into our hearts!

March 29 - Maundy Thursday - Sanctuary, 7:30 pm - service including stripping of the chancel. A powerful service that begins the deepest reflections of the sacrifice our Savior offered for our salvation. Communion is served.

March 30 - Good Friday - Tenebrae Service - 7:30 pm Sanctuary - A powerful, moving service that brings us face to face with the texts of the story of the Passion. Readings, music, silence, candlelight and darkness all witness to the power of this night.

Study

Each Sunday morning, 9 am beginning February 11 - Soul Keeping: Caring for the Most Important Part of You by John Ortberg - Discover what this mysterious thing is that is called 'soul' and how to tend it to keep it whole.

Holy Solitude: Lenten Reflections with Saints, Hermits, Prophets and Rebels by Heidi Haverkamp – Through inspiring stories, thoughtful daily reflections and practical spiritual disciplines we discover how time apart can open our eyes, ears, minds and hearts to the still, small voice of God and transform us for a life of faith and service.

Devotionals Provided: (free and available at church); Psalms for Lent: Devotions for the Sacred Season by Jane Wilke; Thy Will be Done by Ted Schroeder

***

Crescent Avenue Presbyterian Church Welcomes Noted Conductor, Deborah Simpkin King, PhD, as its Interim Director of Music
Plainfield, NJ; August 10, 2017………. Crescent Avenue Presbyterian Church (CAPC), one of New Jersey's most beautiful and historic churches, is pleased to announce the appointment of Deborah Simpkin King, PhD, as its new Interim Director of Music. In addition, Dr. King will serve as the Artistic Director of the church-sponsored Crescent Concerts Series, a multi-disciplinary presentation of vocal, instrumental, choral and orchestral music events for the residents of Plainfield and the surrounding communities.
In her role as Director of Music, Dr. King will lead the Chancel Choir, serve as the organist during services and organize the special music offerings at CAPC. As the Artistic Director of the Crescent Concert Series, which includes concerts by both the Crescent Choral Society and the Crescent Singers under her direction, she will be working with the Concerts' board in developing and curating the full season's concert activities.
"Crescent Avenue Presbyterian Church has an impressive history of supporting the arts as a pathway into the human heart and soul," says Dr. King. "I am thrilled to have the opportunity to work with such a vital organization filled with talented people who truly understand the significance of that role."
Dr. King brings with her over 25 years of experience as a conductor, building and leading choral ensembles and music programs for ecclesiastic, academic and other non-profit organizations. She is the founder and artistic director of Ember, the vocal ensemble of Schola Cantorum on Hudson, and of PROJECT : ENCORE™, the internationally acclaimed advocacy initiative for post-premiere performances of new choral music. Her leadership roles in the professional community include chair of the New York Choral Consortium (NYCC) and Coordinator of the NJ-ACDA High School Choral Festival.
Dr. King holds a Ph.D. in Musicology from the University of North Texas and a MMus in Music Education/Choral Conducting from North Texas State University. Prior to her position at Crescent Avenue Presbyterian Church, Dr. King served in a variety of musical capacities for Episcopal, Presbyterian and community churches.
"We're very excited to welcome Deborah to the Crescent Church family"," says the Rev. Lynn Santali. "Our church has a rich tradition of music which has always sought to bring the very best to worship and to the community. It is time to take a fresh look at our entire program. Deborah is uniquely qualified to lead our music programs and to tease out the traditions we want to hold onto while helping us to develop new ones for the future. She truly shares our vision, passion and commitment to providing our community with the highest quality musical experience."
*****
Ways to Serve
CAPC Soup Kitchen – Is on hiatus rigth not while we completely renovate our kitchen facilities (to better meet the needs of the commuity and our church). PLEASE NOTE: WHLE THE KITCHEN IS BEING RENOVATED THE SOUP KITCHEN WILL BE CLOSED. BAG LUNCHES WILL STILL BE DISTRIBUTED EACH WEEKDAY AT 10 AM. VOLUNTEERS LOOKING TO HELP FILL BAGS SHOULD CONTACT THE CHURCH OFFICE
Blessing Bags - Blessing Bags are a great project for individuals, youth groups, companies that want to make a difference, and other groups of volunteers. Random acts of kindness which may seem so small to us can make a big difference in someone else's life. Blessings Bags are one way to make just such a difference—and they're easy! Items can be purchased at a dollar store and can be placed in a gallon plastic bag to be distributed at our weekly Soup Kitchen.
What to include? Here are some suggestions:
Gloves
Thermal socks
Crackers, beef sticks, candy bars or other snacks
Toothpaste/Tooth brush
Wipes
Deodorant
Fruit juice/water
Bags can be dropped off Sundays through Fridays 8-12 noon


Want to find out more about any of these opportunities?
Please contact the church office at 908.756.2468 or email Pastor Lynn at pastor@crescentonline.org